As of noon, Montgomery County is under a Wind Advisory through at least midnight tonight. Winds are expected to be 20 – 30 mph with wind gusts as strong as 50 mph!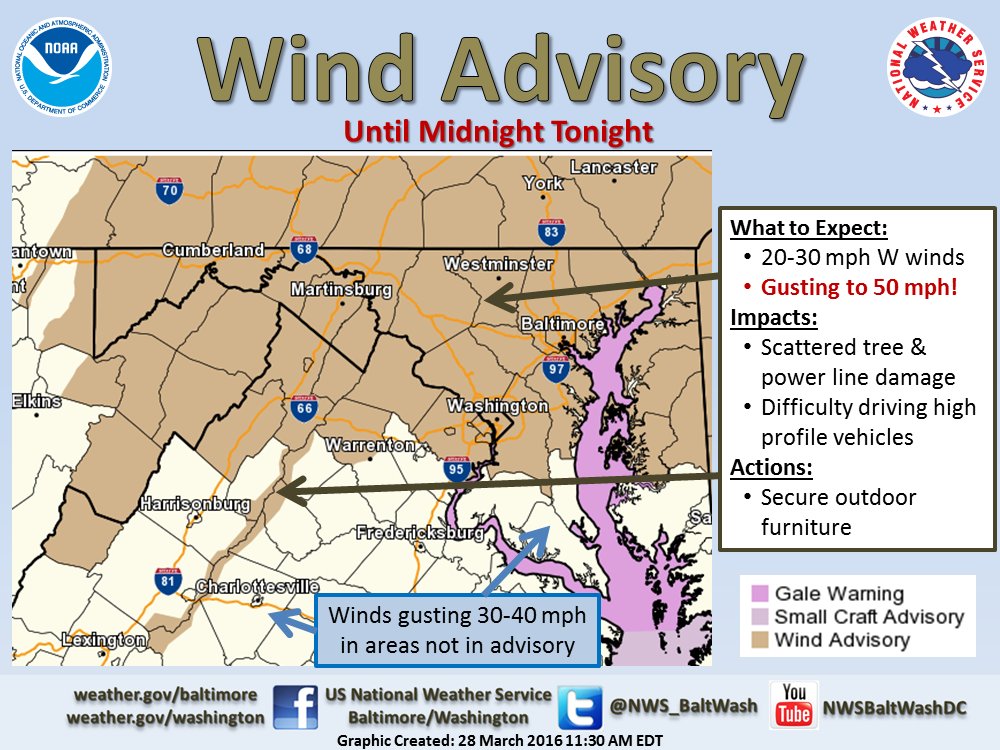 The strongest winds are expected to occur around now and also later today and through this evening.
With winds like that you can potentially expect to see scattered tree damage along with downed power lines. Of course with downed power lines you can also expect power outages.
MCFRS would like to provide the following tips and are asking residents to plan ahead, be ready and be safe during this wind event:
Make sure you secure, or bring inside, any loose items that could become dangerous projectiles in high winds.


Ensure your cell phones, laptops, tablets and other important devices are fully charged.


Do NOT use candles for lighting. Using candles during a power outage poses an extreme risk of fire. Use flashlights or battery-powered lighting options.


As a reminder, treat ALL intersections without a working stoplight as a four-way stop.


Turn off any heat-producing appliances (toaster oven, range, irons, etc.) that were running when the power went out to prevent them from starting unexpectedly when power is restored. If left on, they can pose a serious fire hazard.


If you are using a generator, make sure it is in a well-ventilated area to reduce the risk of breathing harmful fumes. Never place a generator under an open window and follow all manufacturer instructions.


Make sure the batteries in your smoke alarm and carbon monoxide alarm are fresh. Test alarms to ensure they are working.


Take care driving high profile vehicles such as semi-trailer trucks, buses, and sport utility vehicles.


If live wires are involved, the tree is blocking a roadway, the tree is on a structure or if anyone is trapped under a fallen tree, call 911.


Keep children and pets away from areas where power lines may have fallen.


Use extreme caution when cleaning up storm damage on your property. Downed or damaged power lines can send electrical currents through tree branches and metal fences, so survey the area carefully - especially if you'll be using a pruning pole, ax or chainsaw.


Do not remove fallen tree limbs or other debris from power lines. Tree limbs and other objects can conduct electricity and carry a current strong enough to cause serious injury or death.


Use extreme caution around downed or damaged power lines. Do not remove fallen tree limbs or other debris from power lines, never drive over downed lines and treat all wires – even those that are hanging or down – as if they are "live" (energized).


For downed trees on public property, Montgomery County residents should call -311 between 7 a.m. and 5 p.m. weekdays (or 240-777-0311 from outside the county or from a cell phone), or file a report at http://www.montgomerycountymd.gov/311.


Reach out to your neighbors who may need help, especially those that are elderly, disabled or infirmed.